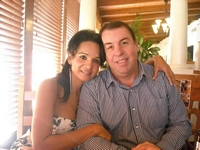 Not in my wildest dreams did I expect to meet Cristina and fall so hard for someone so fast, but destiny could not be denied! I am just your typical middle age guy, with an average income, and average looks searching for my life partner.
As you all know, it is not easy finding a woman in the United States. I tried the Internet dating sites with no luck because the women were either different from their profile or the lady was nice but there was no chemistry between us. So I decided to broaden my horizons and decided to go on an international romance tour, which I believed would give me the best opportunity to find that special connection between a man and women. Best case scenario, I would find a woman that I had a connection of some kind with and then continue the relationship after I finished my romance tour. I would travel to visit her again, spend quality time with her and maybe the relationship would grow into something special and long lasting in time.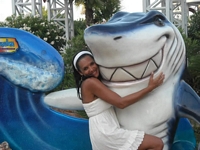 The worst case scenario, I would enjoyed a good vacation, meet some nice guys, date some beautiful Latin women, learn more about their culture, and have a beautiful personal tour guide as my escort.
Without taking that next step and getting out of my comfort zone I would have never found my true love, Cristina. She is a remarkable woman. She is a true extrovert and loves socializing and is sweet, loving, and loves life. In Colombia she was the number one sells person for several years for a national insurance company. She had a new car and a three-bedroom townhome in a beautiful upscale neighborhood all paid for. She had a great life in Colombia excellent career, lots of friends and family.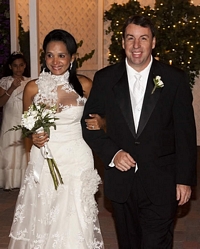 But none of that was as important to her as having a man to love and to be loved. She dreamed of a loving family and growing old with the man she loved. She was not interest in Colombia men most are unfaithful and she was not going to except that. So she joined AFA and went to several social in a two-year period and went on a couple of dates from the socials but none of the men she felt a connection with, until the night we met.
I can remember that night like it was yesterday. It was the first social on a Friday night I was walking with my interpreter to my sixth table. I looked down and Cristina was sitting next to my chair. She looked up at me our eyes met and instantly I felt this unbelievable strong connection with her. I had never felt such an amazing intense chemistry with anyone before. I could not be happier I have the love of my life, my wife Cristina.
I am so lucky and proud to have her love. Sometimes I wonder to myself how did this happen? But the answer is simple it was destiny.
Editor's Note: David O'Dell has written a wonderful book about his experience overseas, looking for his destiny woman (Cristina). This is a must read for every man (or woman) who has toiled over dating and relationships. David's sincere style of writing will touch your heart and enlighten your mind.

You can order David's book, Encounter Your Destiny, in download format and begin reading it today.